Experience the Flachau region in the Salzburger Land from a completely different perspective. Get ready for a romantic journey through deep snow or on well-groomed winter hiking trails. Snowshoe and winter hikes are the perfect alternative to skiing. But don't get confused by the two. Snowshoeing is done by trudging through deep snow with snowshoes that look like flippers. Every type of hiker is sure to find their favorite route on the prepared routes of the winter hike. No special equipment is required here.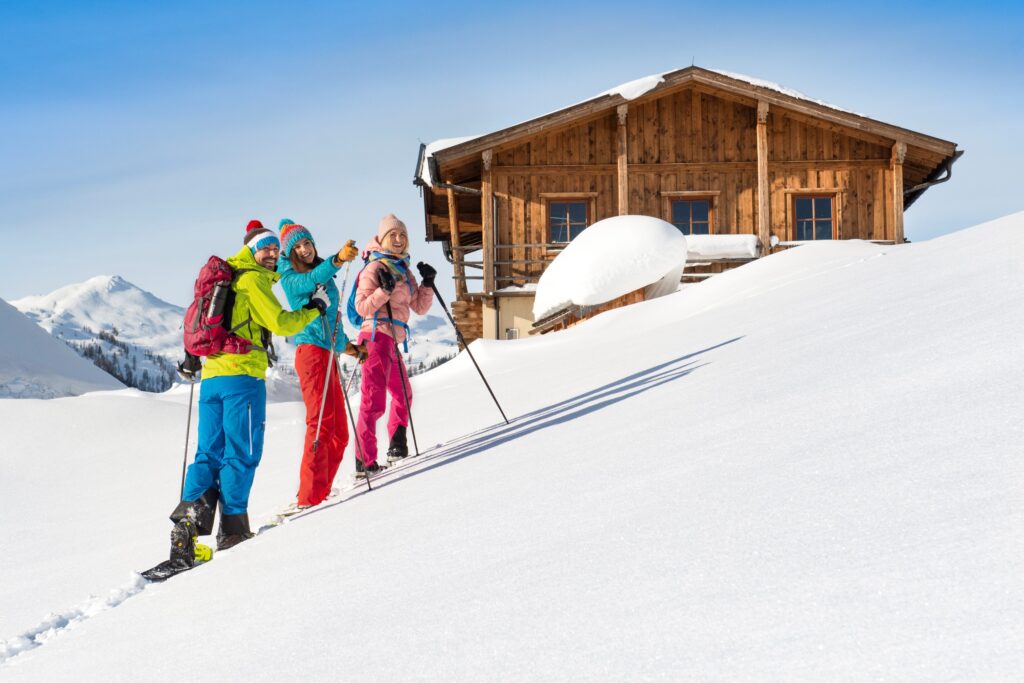 Snowshoe Hiking in Flachau
Get your snowshoes on, get set, go…!
The best way to get to the most untouched snow-covered Salzburger Land is on a snowshoe hike. Many holiday guests see snowshoeing as a gentle alternative to the surly fun on the slopes. You can experience the most beautiful glimpses of the dreamy winter world almost effortlessly. No matter the direction – uphill, downhill or leisurely straight ahead – there is no limit to what you will discover on a snowshoe hike.
In addition to the independent hikes through deep snow, you can also join a guided tour and hike in a group with an experienced mountain guide. You can contact the local ski and sports schools for more information and to join a group
Winter Hiking in the Snow
Step by Step towards Winter Cheer
Experience a peaceful winter idyll on a leisurely winter hike through the quiet and fairytale snowy landscape of Flachau. Warm clothes and sturdy shoes are the only equipment you will need. You will find numerous suitable winter hiking routes around the Flachau region. Get a special insight into the snow-covered forests, romantic winter landscapes and sugared mountain peaks. Winter hikes are suitable for the whole family. They offer the perfect contrast to skiing for adults and children alike.
Selection of winter hikes
Curious now?
Book your vacation in Flachau now
#thepongauerhof
We let pictures speak
Vacation in Salzburg with views that touch the heart. Already in the holiday mood?
Moments that move, inspire, and awaken unforgettable memories. Come with our emotional pictures on a journey through the 4* Hotel Pongauerhof directly in Flachau. Let the images speak to you – as the saying goes: a picture is worth a thousand words.