Do you fancy a day in the water? Then visit the adventure Therme Amadé in Altenmarkt just 5 minutes by car from the 4-Star Hotel Pongauerhof. It's the perfect place for bathing fun for the whole family. Slides and pools of differing sorts guarantee an exciting day at the Therme Amadé.
Rest and relaxation are not neglected here either. The separate sauna area and the extensive range of massages invite you to relax and switch off. Experience hours of enjoyment in the 30,000 m2 Therme Amadé in Altenmarkt-Zauchensee.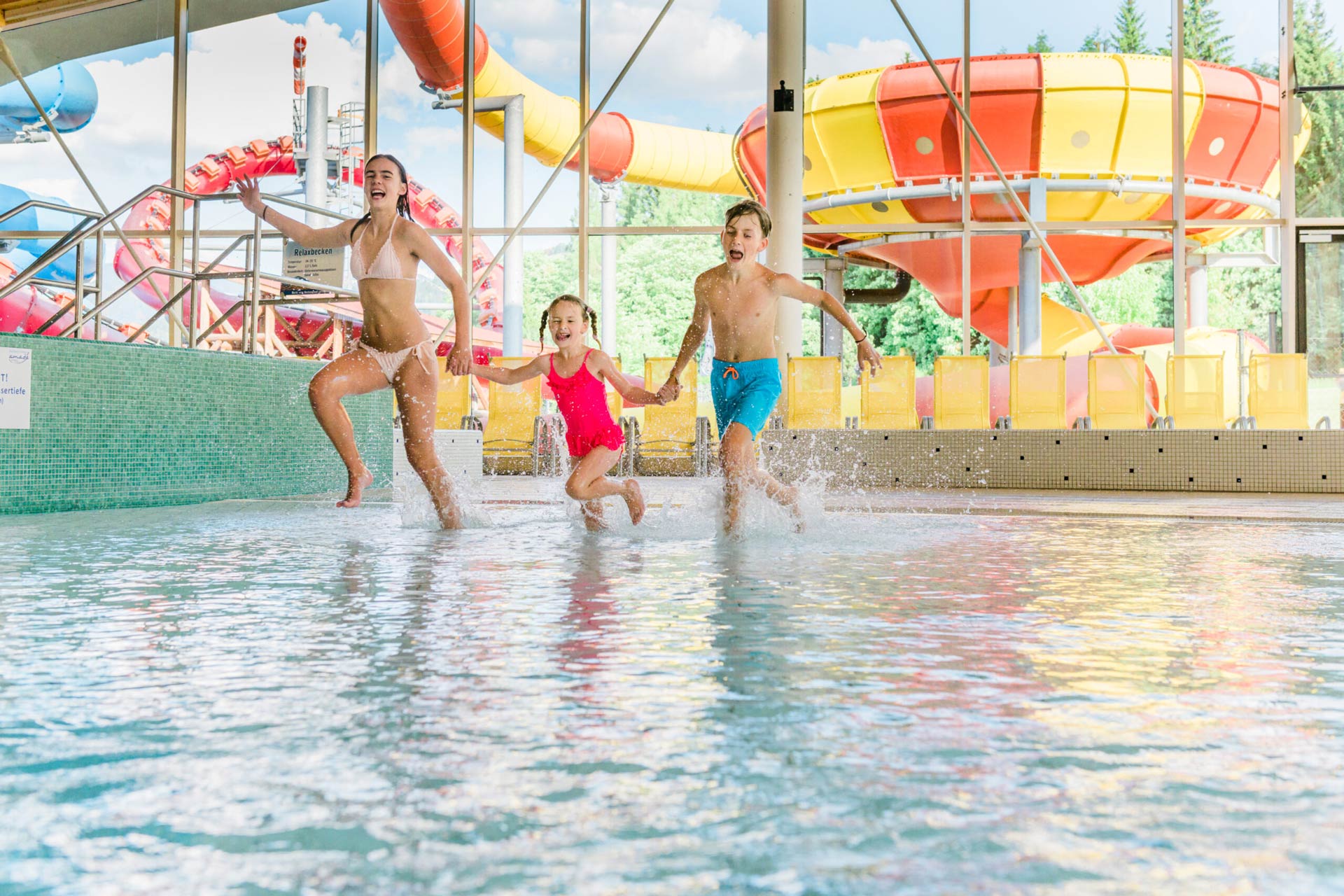 Sport, Fun and Adrenaline Kick
Action for Large and Small
4 Slides (Snake Slide 'Kobri', Tunnel Slide 'Black Mamba', Funnel Slide 'Python', Looping Slide 'Anaconda')
7 Pools Out- and Indoors (Wave Pool, Relaxation Pool, Crystal Rock Pool, Amethyst Pool, Children's Pool, Sports Pool)
2 Diving Boards (1- and 3- Meters)
Waterclimbing
Sauna and Relaxation
And enjoyment all around
5 Themed Saunas with varied Wellness Programs
(Salt, Crystal Rocks, Mountain Panorama, Swiss Pine, Amethyst)
Sölker Marble Reclining Surfaces
Whirlpool
Solarium
Relaxed Lounging
Salt-Relaxation Room
Steam Room
Rose Quartz Pool
Sauna bar
Curious now?
Book your vacation in Flachau now
#thepongauerhof
We let pictures speak
Vacation in Salzburg with views that touch the heart. Already in the holiday mood?
Moments that move, inspire, and awaken unforgettable memories. Come with our emotional pictures on a journey through the 4* Hotel Pongauerhof directly in Flachau. Let the images speak to you – as the saying goes: a picture is worth a thousand words.