What do Segways, mountain carts and a summer toboggan run have in common? Exactly – they guarantee great fun for the whole family on a summer holiday in beautiful Flachau. If you are looking for that special kick and want to experience the extraordinary, you will find your personal paradise in Flachau!
And the best thing about it: All of these fun sports can be learned quickly and easily. Experience the holiday paradise and the surrounding area in a very special way.
Segway through Flachau
The Modern Form of Sightseeing
Boring walks are a thing of the past! A joyride through Flachau with a Segway promises fun for the whole family. Segways open up a new way of exploring the wonderful landscape around the Flachau region. Each tour starts with a brief introduction by a qualified guide and the first laps are practiced on the course. After a short time nothing stands in your way of a brilliant Segway tour through Flachau.
Segway is offered to those starting at 12 years of age, children aged 10 are allowed to ride if accompanied by their parents.
Lucky Flitze
Action-Packed Descent
Did you think sledding was only fun in winter? As if! On the 1,100 meter long toboggan run Lucky Flitzer Flachau, thrills and fun are inevitable for the whole family. For the drive up you will take a seat in your "sled" and be brought up onto the rails. Once at the top, the adventure begins. On the action-packed downhill ride you can look forward to 5 gyros and 2 jumps. Whether fast or leisurely: everyone determines the pace themselves!
To ride the Lucky Flitzer alone, you must be 8 years old and at least 125 cm tall.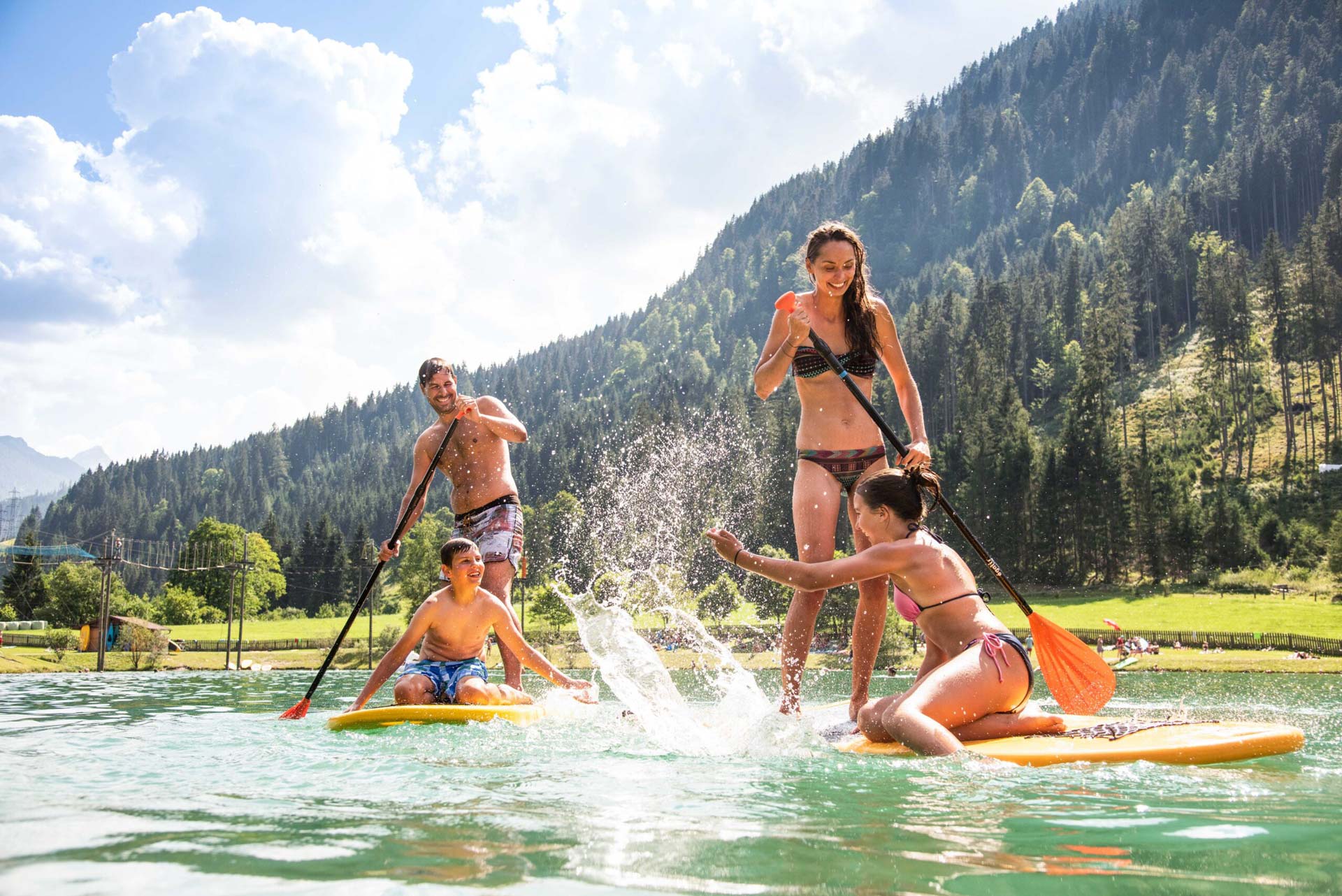 Stand Up Paddling
Off to the Water and Onto the Board
Stand up paddling has developed into an absolutely trendy sport for many summer vacationers in recent years. Here the key is to offset the small waves with the body's own balance. Nature lovers can relax and enjoy the beauty of the surrounding landscape around Flachau while standing on their board. Stand-up paddling is an incomparable experience. Stand-Up-Paddling ist einfach ein unvergleichliches Erlebnis.
Requirements for Stand Up Paddling – good swimming skills and a minimum age of 10 years.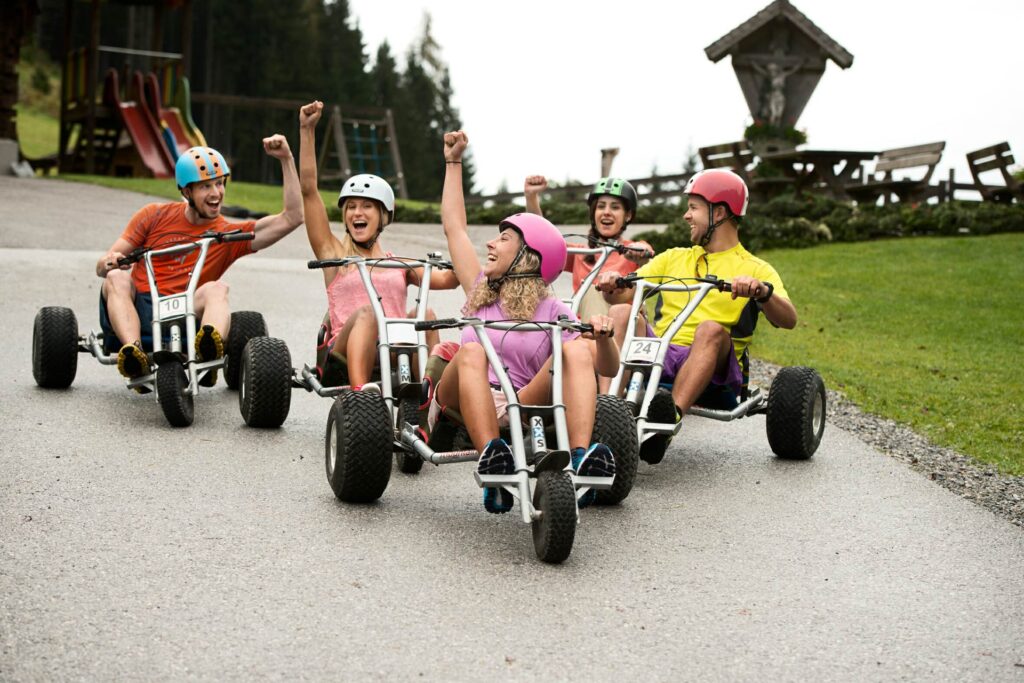 Mountain Cart
Fast-Paced Fun
Thrill seekers will definitely get their money's worth on a mountain cart tour. The newly developed fun sports equipment means that tobogganing is possible all year round, even without snow. Mountain carts, a mixture of go-kart and toboggan, guarantee an extraordinary experience for young and old. After a brief schooling, the bus will take you up the mountain. You will head back over sticks, stones and roots down to the valley at your own pace.

Kids from 8 years of age are allowed to drive their own mountain cart, whereby one parent must also be in the group. Smaller kids can ride along with a parent in a mountain cart together.
Insider tip archery
With a Bow and Arrow
Discover the hunter in you! Discover the hunter in you! Archers of all ages can put their skills and concentration to the test surrounded by a breathtaking mountain backdrop.
Visit the archery park with 15 target figures that have been attached along a 1.5 km long marked forest and meadow path to the corresponding and natural conditions of the original terrain.
In order to offer beginners, advanced and professionals an appropriate challenge, you can choose to "hunt" from three different distances.
Curious now?
Book your vacation in Flachau now
#thepongauerhof
We let pictures speak
Vacation in Salzburg with views that touch the heart. Already in the holiday mood?
Moments that move, inspire, and awaken unforgettable memories. Come with our emotional pictures on a journey through the 4* Hotel Pongauerhof directly in Flachau. Let the images speak to you – as the saying goes: a picture is worth a thousand words.