Biking in Salzburger Land means: starting once and never stopping. The bike options in Flachau are simply too diverse. Up and down through romantic forests, past crystal clear mountain lakes with a tail wind towards the sun is something you never want to stop. Rustic alpine pastures and cozy restaurants invite you to a delicious stop and promise breathtaking views for any break. Explore the beauty of the Salzburg Alps on a bike tour, leisurely or sporty alike.
Mountain Bike Touring
Freedom on Two Wheels
Mountain biking in the Salzburg Region is full of gorgeous views. From leisurely bike tours to technically demanding mountain bike trails – you will find everything in Flachau! Anyone who comes to Flachau for cycling and mountain biking in Austria has opted for an "excellent" destination in the truest sense of the word: The Flachau region has been certified as a bike region with the "Approved Bike Area" seal of quality. Explore the magnificent Salzburg landscape on 45 planned and outlined tours.
Explore the magnificent Salzburg landscape on 45 planned and outlined tours. Concentrate entirely on sport and fun without having to waste a lot of thought with route planning: a daily guided mountain bike tour in Flachau is accompanied with highly trained guides who take care of the details for you.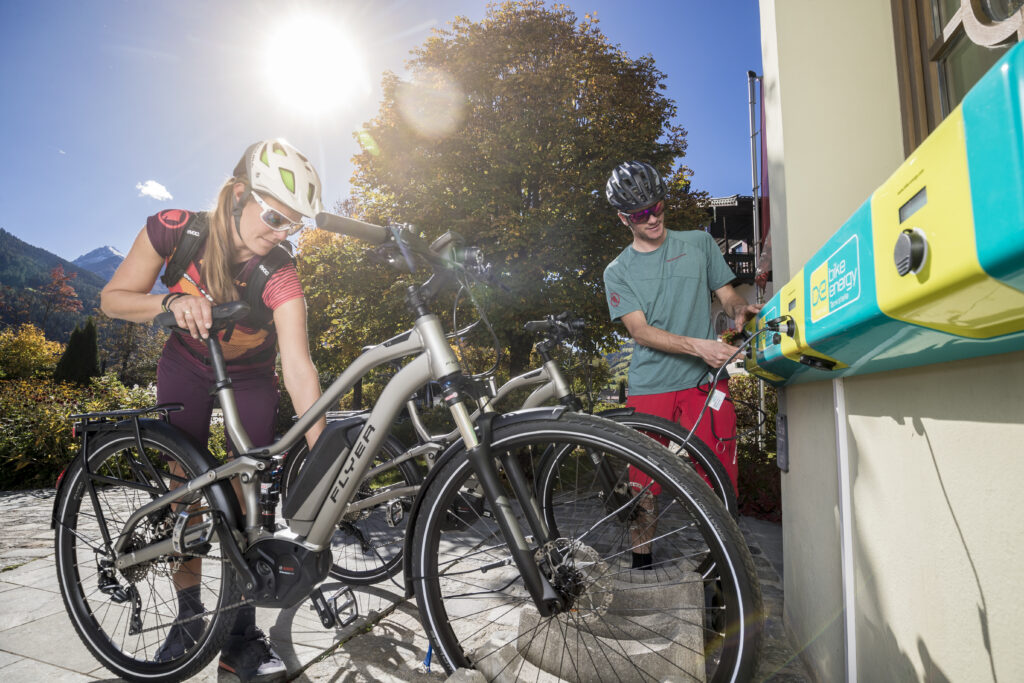 E-Biking in Pure Nature
Limitless Instead of Breathless
The region around Flachau in the Salzburg countryside has experienced enormous popularity in the national and international bike scene in recent years. This wonderful experience is not only withheld for sports enthusiasts on their mountain bikes to enjoy. Thanks to e-bikes, families and older vacationists can also pedal comfortably on the well-developed and signposted network of routes through the Alps.
Hop on an e-bike and explore the most beautiful places in the Flachau region in the Salzburg countryside without too great of an effort. Anyone who does not want to or is unable to bring their own e-bike with them on vacation can rent from over 230 e-bikes in the region.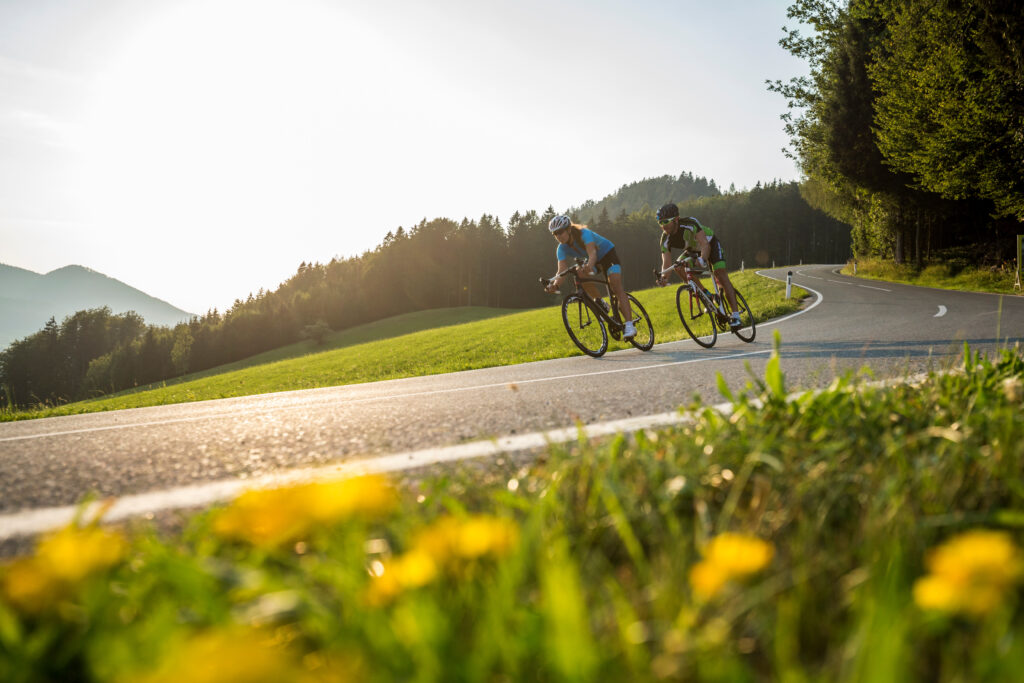 Roadbike Tours in Flachau
Steadfast in the Saddle
The holiday region of Flachau is the ideal starting point for racing bike tours in the Salzburg region. Here you will find a road bike route for every fitness level. Flachau has numerous paved country roads with little traffic and a total of 59 varied racing bike tours are available in the region and surrounding area.
Do you prefer to measure vertical meters instead? Then let's go! Good stamina and endurance are needed, but the effort is worth it, we promise!
Magnificent viewpoints along the routes are waiting to be discovered and admired.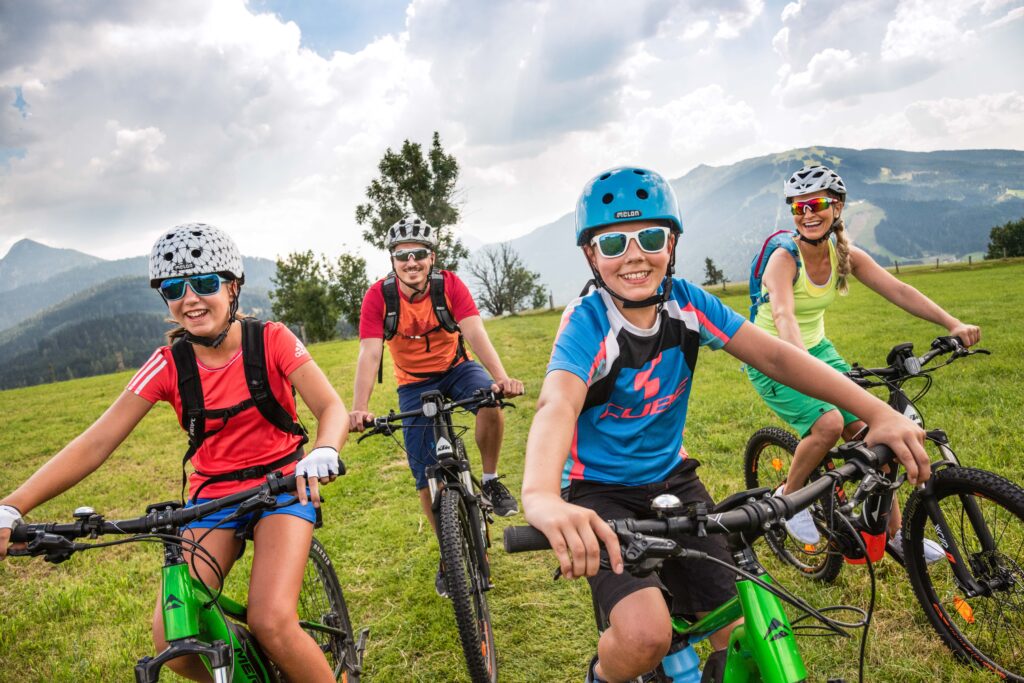 Bike Rental
E for Easy
Renting bike equipment has many advantages: there's no overcrowded trunk, no annoying lugging extra weight around and when you rent you're always getting the best equipment for the next ride. In Flachau you can easily borrow everything for your next bike tour
including mountain bikes, e-bikes, road bikes, helmets, children's seats, bike trailers, and much more. In Flachau you can easily rent the best equipment from our local top providers. The competent staff is always available to advise you and help you choose a suitable bike and the appropriate gear.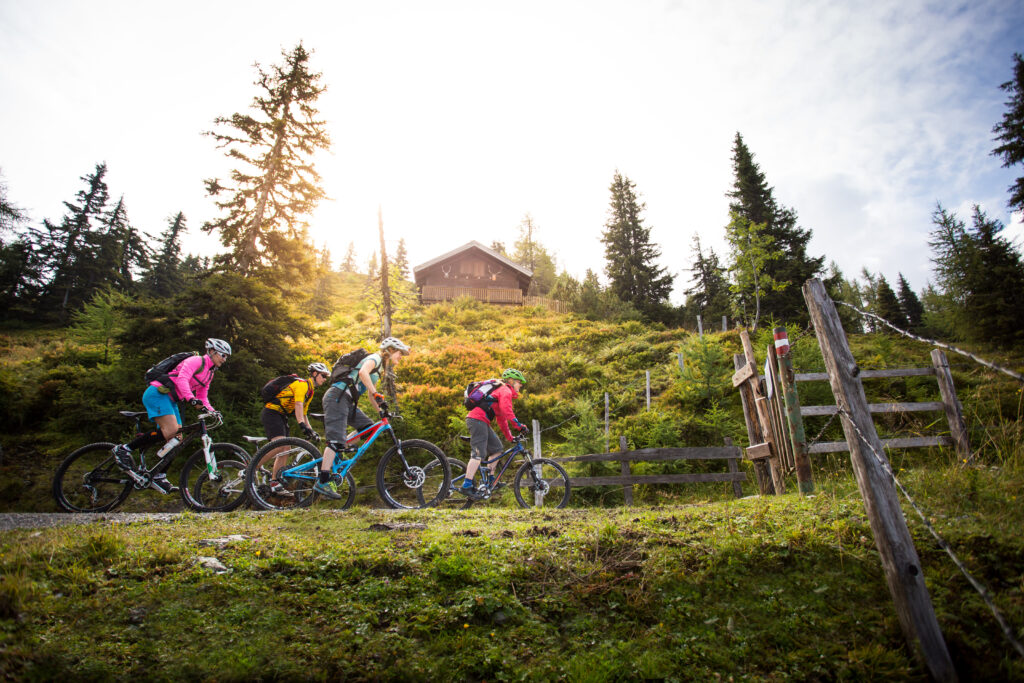 Stoneman Taurista
360° Mountain Views
Are you on the hunt for something especially challenging? Then come to Flachau for the Stoneman Taurista! Here, in the middle of the Salzburg mountains, the ultimate mountain bike adventure Stoneman awaits you with 123 kilometers and a whopping 4,500 meters of altitude along idyllic alpine valleys, glittering mountain lakes and panoramic peaks. There, at the peak, the overwhelming 360 ° panorama of the Alps will cast its spell over you.
The Stoneman Taurista mountain bike season 2021 begins June 10, 2021!
Curious now?
Book your vacation in Flachau now
#thepongauerhof
We let pictures speak
Vacation in Salzburg with views that touch the heart. Already in the holiday mood?
Moments that move, inspire, and awaken unforgettable memories. Come with our emotional pictures on a journey through the 4* Hotel Pongauerhof directly in Flachau. Let the images speak to you – as the saying goes: a picture is worth a thousand words.